Since the start of the novel coronavirus (COVID-19) outbreak, Vietnam has closely monitored the situation and installed a series of proactive, comprehensive measures to combat the spread of the virus within the country and prepare its public health facilities. Past experience with other epidemics places Vietnam in a strong position to protect its population as well as visitors passing through. 
From September 22, Vietnam is resuming international commercial flights to six destinations: Guangzhou, Taiwan, Seoul, Tokyo, Phnom Penh, and Vientiane. At this time the country is only offering entry to diplomats, experts, investors and their respective family members, and Vietnamese returning home. All visitors must meet specific Covid-19 regulations and bring the required paperwork in order to be granted entry into Vietnam.
Vietnam has automatically extended its free temporary residence until Oct. 31, 2020 for foreigners who have entered Vietnam on tourist visas on or after March 1, 2020. Foreigners in the country during this time must fill out medical declarations online (https://tokhaiyte.vn/) and temporary residence declarations with their hotels or landlords. Foreigners and residents in Da Nang, Ho Chi Minh City, Dong Nai, and Hanoi are required to wear masks in public may be fined from 100,000VND to 300,000VND for failure to comply.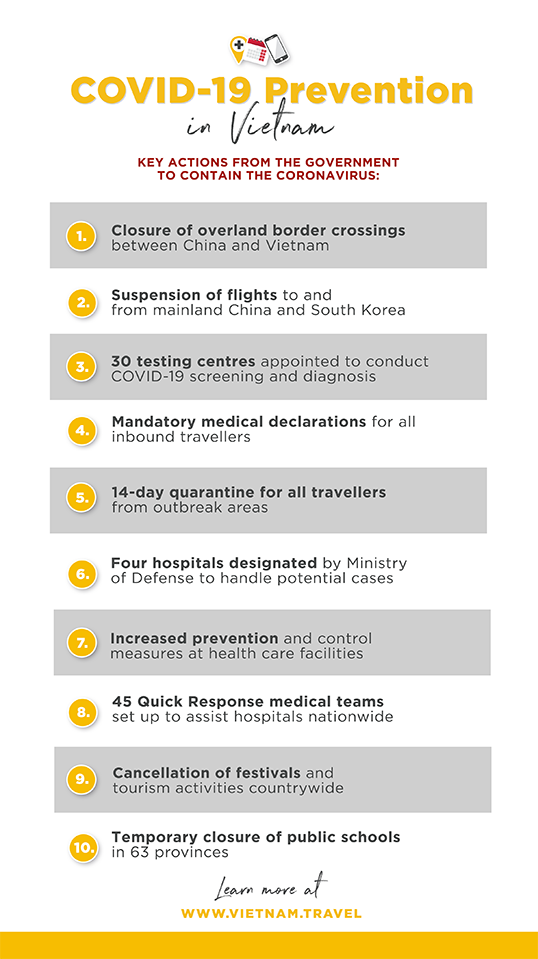 Visa policies for travellers to Vietnam 
To staunch the spread of COVID-19, Vietnam is not allowing entry or issuing visas to foreign nationals, from March 22 until further notice, except for those travelling for official or diplomatic purposes, who must undergo medical checks and 14-day quarantine upon arrival in Vietnam. These officials must pay for their own quarantine expenses as of September 1, 2020. However, those whose visit is for less than 14 days are no longer required to quarantine, but they must comply with Vietnam's regulations, including international health insurance and expenses covered by their sponsor organization.
Vietnam's Immigration Department has announced that all foreigners who entered Vietnam after March 1 on visa exemptions, e-visas or tourism visas will be given automatic stay extensions at no charge until September 30, 2020. Travellers still in the country should declare their temporary residence to local police, through their landlords or hotels, and must complete Vietnam's online health declaration here.
Visitors who entered the country before March 1 may be considered for the extension, provided they can show an official letter from their embassy or consulate stating they were unable to leave the country due to objective reasons. Foreigners who have undergone quarantine or treatment for Covid-19 in Vietnam are also eligible for the extension. They must bring their certification documents to show immigration officials when leaving Vietnam. 
For questions about the new policy, please call Vietnam's Immigration Department at 024 3938 7320.
Vietnam has officially suspended all visa exemptions for citizens of South Korea, Belarus, Russia, Japan, Sweden, Denmark, Finland, Norway, UK, France, Germany, Spain and Italy. Travellers who have entered the country on visa waivers or tourist visas are given automatic visa extension until September 30, 2020. Those who have entered Vietnam for business, visiting relatives, or purposes other than travel should contact a visa agent to address their visa concerns.
follow Vietnam Travel